Top 5 Restaurant management books every restaurant owner should read
Running a successful food business is not an easy task. Keeping up with the competition is tough. With so many restaurants all over the world, people can just head to another restaurant instead of dining in at yours. 
Whether you are a new restaurant owner or a successful one, these books would enable you to learn from owners, chefs or managers past experiences so that you are able to up your restaurant. 
1. Restaurant Success by the Numbers, Second Edition: A Money-Guy's Guide to Opening the Next New Hot Spot by Roger Fields
A myth that many people believe is that the 1% of restaurants succeed due to their uniqueness compared to the rest. Roger Fields shows how various ways on how to avoid failing in its first year, and how to retain the customers. This book focuses on comprehensive personal stories and numbers readers would be able to understand, such as the logistics of opening a restaurant, ideation, menu, staff and profit. The second edition tackles uprising trends and downfalls of online opportunities, which is very important in this digital era. According to reviews of the book, some found it particularly useful as the author wrote about the positives as well as negatives of opening a restaurant. His concepts are easily understandable by the average Joe. This book also touches on all the aspects of opening a restaurant: conceptualising, pricing, staffing and designing.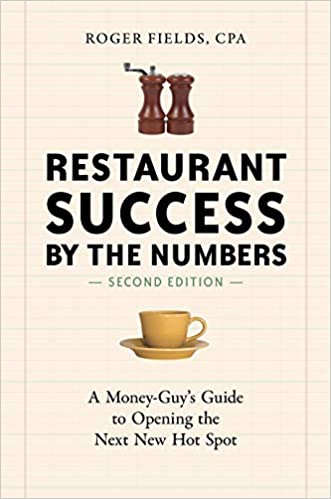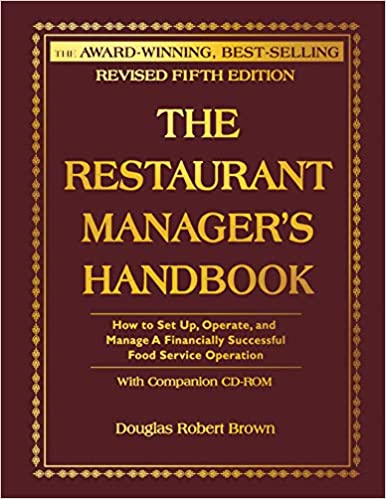 2. The Restaurant Manager's Handbook: How to Set Up, Operate, and Manage a Financially Successful Food Service Operation Revised 5th Edition by Douglas Robert Brown
Regardless of being a restaurant owner or being someone with no experience in managing a restaurant, this book covers numerous topics ranging from restaurant branding to recent trends in the restaurant business. What's unique about this book is that there are many fun facts scattered over the wide range of topics, making the most boring topic come alive. With the 5th edition, they have included information regarding the progress and implementation of technology on top of existing case studies from professionals that cover topics such as branding, franchising, effective layout and remodelling, cost-effective menu planning, sourcing food and more. According to reviews, this book has provided in depth and thorough explanation, while being easy to absorb.
3. Setting the Table: The Transforming Power of Hospitality in Business by Danny Meyer
Danny Meyer, a prominent restaurateur well known for his restaurants such as Shake Shack and Gramercy Tavern, shares his insights from the lessons he has learnt. An example would be emphasising on the importance of customer-restaurant and in-house relations. His unique philosophy has led him to his successes, and you are able apply this to yourself, regardless your ranking in the restaurant. According to reviews, many people mentioned that it was an amazing read. One even mentioned that you would not have any regrets reading this book.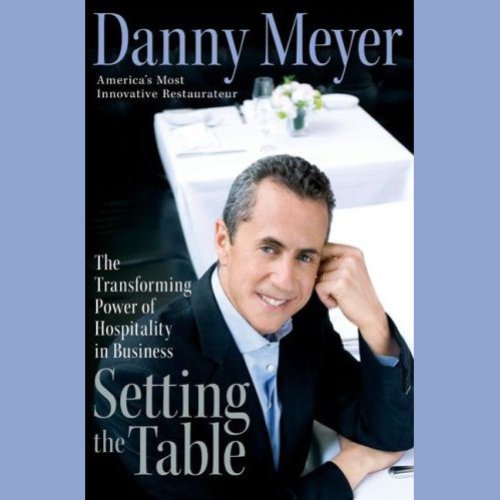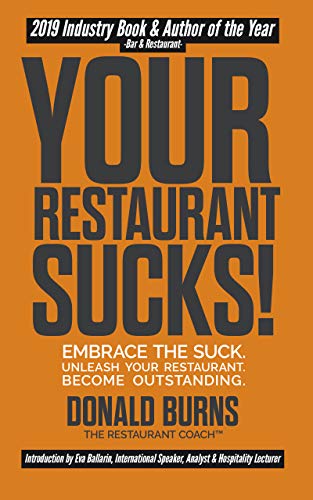 4. Your Restaurant Sucks!: Embrace The Suck. Unleash Your Restaurant. Become Outstanding. By Donald Burns
Having troubles with your restaurant? You can either embrace a change or just keep being bad at running it. "Embrace the suck", can be applied into the restaurant by focusing, changing your mindset and controlling your next action. This book focuses on the mindset of the restaurant's management, such as by looking back over your past actions and makes you re-examine the way you are faced with challenges. This book incorporates articles, blog posts and motivations to further demonstrate the valuable insights, information tools and techniques.
5. Your First Restaurant – An Essential Guide: How to plan, research, analyse finance, open and operate your own wildly successful eatery. By Daniel Holmes Boardman
Instead of having typical motivational speeches like other management books, this book goes straight to the point as Daniel uses his 30 years of past experience as a restaurateur. The book uses a well laid out and organised structure to teach you how you are able to operate a successful restaurant. These includes how you are able to estimate the amount of capital needed, negotiate the rent of the space, identify potential threats which causes downfalls to the restaurant and how you can avoid them.